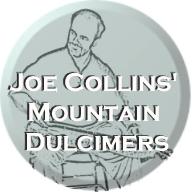 Links from Joe Collins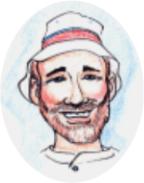 Index (click to go to link category of interest)
Businesses that carry Joe's products
Other players/builders influencing Joe
Foothills Dulcimer Club of Shelby, NC is my home club. This site has our meeting times and places listed. If you're in the area, I hope you'll drop in on us or join us!
Steve Kaufman's Acoustic Camp - a long-standing festival featuring some of the best acoustic stringed instrumentalists in the country. The dulcimer made its way into this camp for a second year in 2010. there was enough response to warrant Steve adding dulcimer again in 2011. It's really a great camp, well organized, and welcoming of all instruments and styles of music. Please consider coming to enjoy the music AND support the dulcimer!
Sweetwater Folk - an Internet Radio Station where you can hear dulcimer players from all over the country all day long. Great station!
Dulcimer Players News, one of the best sources of information for both mountain and hammer dulcimer enthusiasts.
North Georgia Foothills Dulcimer Association is a great organization of which I am a member. A monthly newsletter and a couple of events make the membership well worth the cost if you live in the Southeast.
Dulcimer Players Workshop at Western Carolina University. Formerly held in Boone at Appalachian State University, this is a premiere dulcimer workshop that I attended for nearly a decade. Held in July, it is a wonderful time for all. Check it out!
Thistledew Acres. Doug and Lee Felt are the friends of countless dulcimer players, and I count it a privilege to be among those players. They make one of the best soft cases available anywhere for the dulcimer.
Businesses that carry Joe's products (Deluxe Dulcimers available only from Joe)
Southwind Dulcimer is located in Owensville, IN. Marilyn, my contact there seems very nice, and their product line is online and diverse. Worth a visit to their site!
Song of the Wood in Black Mountain, NC is a wonderful little shop with recordings, books and fine instruments by Jerry Smith.
McSpadden Instruments is well-known for its fine instruments, its great support of musicians, and its friendly people. Located in Mountain View, Arkansas, they have a great shop to visit if you're in the area.
Pigeon River String Instruments is a neat little shop up in Pigeon Forge, Tennessee who carry my books and recordings. Really nice people!
Prussia Valley Dulcimers is run by Gary and Toni Sager in southern Ohio. Gary has a great line of dulcimers and a wide selection of books and recordings. He also makes one of the finest baritone dulcimers I've ever played.
Wood 'N Strings Dulcimer Shop in Townsend, TN is run by Mike Clemmer who is a fine builder of a unique 5-string dulcimer and a great player. I met Mike at the North Georgia Fall Festival in Helen,
GA and had a great time picking a few Christmas tunes together.
GitterPicker String Factory in Twinsburg, OH is owned and operated by Laura & Steve Radcliff. Steve is a great muscian and runs this wonderful little shop. They provide lessons on all kinds of stringed instruments, including the Mountain Dulcimer. See my friend Brett Ridgeway there to purchase and to learn how to play dulcimer (mountain or hammered).
Other interesting sites of individual dulcimer performers
Michael Shull, a friend and ensemble partner at the Southern Regionals where we placed 2nd twice. We've spent a lot of time traveling together to dulcimer events. He has wonderful gospel music that you can hear samples of on the website. Michael has been to Shelby a couple of times to do workshops.
Lee Rowe is a great player and the 1999 national champion. I became familiar with Lee back around '95. Even then, he was as clean and fast as any flatpicker I had ever heard. He did a workshop for us in Shelby in 2001.
Larry Conger is the 1998 national champion. A great teacher, Larry stays busy teaching several instruments out of his home and at festivals. Several of my students use his books of tab, especially after he did a workshop for us in Shelby, NC (2000).
Steve Seifert is busy doing workshops all over the country. In my opinion, he's one of the best players around in regards to technique and adaptability to different musical genres. Steve was our guest instructor in Shelby in 2002.
Jeff Sebens is a builder from Virginia who also does a great job teaching. He and his wife Patricia are the former proprietors of Meadows Music. I've been impressed with his craftsmanship, his playing, and his work with a growing festival at Winston-Salem, NC in May. There's a link on his site for that festival.
Benjamin Esh is a music ministry graduate who majored in Guitar performance and a vocal emphasis. He is currently the music director of Westminster Presbyterian Church in Elgin IL (near Chicago). I met this young man online and saw that he offered some good, solid arrangements for the dulcimer on his website. Worth checking out.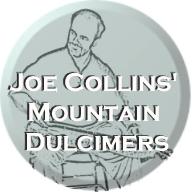 Back to Home Page